What Sweaters Will Be In Fashion This Fall-Winter – Sweaters are that type of all-terrain garment present in our wardrobe for almost the whole year. For autumn-winter fashion, these smithereens remained reinvented to continue being protagonists in their own right of urban looks. Keep reading if you want to know which sweaters will set trends well into 2022!
Then I'll tell you how to reinvent the sweaters that you already have in your wardrobe -and that you love- which ones you should take out and which ones you should add as a new crop for your wardrobe. So get ready because we will talk about the season's colors, style tricks, and sweater designs that will give your image a renewed look.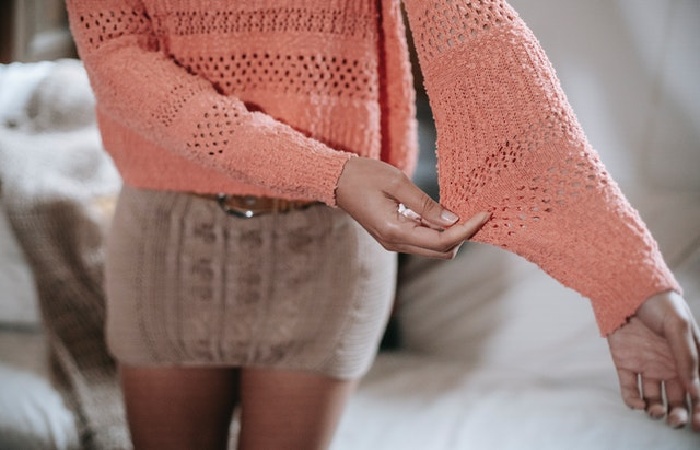 Fashion That Paints Optimistic
The Fall and Winter virtual catwalks gave us excellent and truly optimistic insights into the colors, fabrics, textures, and patterns we'll be seeing the most on the streets. And in these proposals, sweaters are inevitable.
Ideal as transition pieces to the colder months and as a highlight for the rotation and combination of the most basic garments that we have in our wardrobe, the autumn-winter fashion sweaters are a true example of creativity and energy.
Optimism bubbles up in fabrics, both thin knits and thicker ones. Sweaters and cardigans with bright, bold, elegant designs and colors and striking and cheerful styles invite us to give a renewal and style twist to the most combinable garments in our wardrobe.
Find out the sweater trends that are going strong for the months with the coldest temperatures of the year.
Geometry To The Max
Geometric patterns in sweaters are one of the most notable trends for autumn-winter fashion and, without a doubt, one of the characteristics that will brighten up our wardrobe the most.
To layer under black or dark coats, a sweater with stripes, squares, triangles, trapezoids, and other geometric shapes, as well as asymmetrical cuts, will add a bold touch to any primary or neutral outfit.
Ethnic And Alpine Style
Printed jumpers inspired by are the icing on the cake for fashion in the coming seasons.
Wear the ethnic prints in classic black and white designs or with solid, vibrant shades in other seasonal colors like turquoise, green, yellow, orange, pink, violet, or purple.
How to combine them?
With pleated skirts or fluid high-cut jeans, sweaters that do not exceed the waist look spectacular.
If they are oversized and made of structured fabric, you will only need some ankle boots, some cowboy boots to accompany them, some fashion accessories, and an
Or you can wear them with basic leggings or stretch jeans (jeggings).
Apres Ski Look
The geometric borders that characterize thick après ski jumpers will give you that contemporary look. Combine it with casual pieces like sports shoes and fluid-cut pants.
Après ski is that laid-back look of a social date after a day of skiing. In this autumn and winter season, one of the winning combinations is the sweater of this style, together with a pleated skirt and sneakers.
If you prefer pants, ribbed corduroys or sweatpants are a combination that never fails. Wear them with accessories that look impeccable.
Comfortable Style
Along with the quarantines, the comfy style emerged, and everything indicates that we will continue to love this trend. The reason is straightforward: it makes us feel comfortable all day.
So the comfy-style unicolor sports sweaters, in thick or thin wool, combined with pajama-type pants and nice shoes that add a few extra centimeters, will continue to be a safe bet for our casual outings.
For a more formal look within the parameters of sporty chic, wear sporty jumpers with wide-cut dress pants and shoes that stand out on their own.
Bohol Prints
This style will always be one of the favorites for the fall/winter seasons. Take advantage of the return of ethnic prints and vibrant colors to achieve this bohemian and daring look, not afraid of mixing textures.
If you have knits and wool from previous years. Combine it with basic pleated skirts in this season's colors and sneakers.
Maximalist Sweaters
Maximalist sweaters and oversize sweaters became must-have spring pieces to wear as dresses. For autumn and winter, they will continue to be present in our wardrobe in knitted, wool, or structured fabrics that are warm.
Accompany with tight pants or full socks that protect you from the cold and wind in maximalist sweaters. Including those with sleeves that end in striking or large cuffs.
Jumpers With Balloon Sleeves
Balloon sleeves, puffed shoulders, and arms add a romantic touch to this season's jumpers. However, do not forget to include them in white or other light or neutral tones to combine them with checkered pants, stripes, pleated skirts, or straight-cut jeans.
Polo-neck sweaters, which were a sensation last season, are still in force. With that V neck, it is flattering for many of us! Several fashion houses are upping the ante with alpine-print polo sweaters.
With Sailor Point
Some pieces do not lose validity. One of them is black and white or white and blue striped sweaters and cardigans, in a chic sailor style.
For a renewed style in autumn-winter fashion, wear it with metallic buttons or shiny appliqués. It is an essential look that you can combine in many ways without being afraid of layering clothes.
You can combine a navy sweater in a dark tone with a thin sweater underneath. A lighter style, and a turtleneck.  It will give more light to your face.
Another way is to tie a short scarf around the neck to achieve the same high neck effect.
If you have a sailor-style sweater in your wardrobe. The combination with white pants is one of the classics back this fall.
Fluid Cardigan
Cardigan sweaters this season tend to be flowy. If you wear them more tailored or closed at the front. Combine them with wide pants to give your figure a better balance. If you use them as a jacket (open), pair them with another fine fabric or soft-touch sweater underneath. Inside pleated pants, or an elegant skirt.
READ MORE :-Pajamas Or Nightgowns? Which One Is In Fashion 2022