Mercadona cosmetics. – The Mercadona supermarket chain is highly recognized for its wide variety of products of all kinds, from food to cleaning, without forgetting one of my favourites, cosmetics.
Since and it is that the company's private label, Deliplus, offers all kinds of items for skin and hair care of the best quality and at the most economical prices on the market.
Below, I show you a small selection of my favourites; you can't miss them!
Cosmetics For Skin Care
Coconut oil is an incredible all-in-one, intended not only to deeply hydrate the skin, both on the face and the rest of the body but also to remove makeup and as an ingredient for cooking. It is also the ideal remedy against dry hair, fixing the ends.
Rosehip oil: it is a 100% pure oil, perfect for removing all types of skin marks, such as blemishes and scars, and delaying the natural ageing of the skin. The best price is only €4.99 for an incredible regenerating product.
Deliplus 24K Gold Progress Dry Oil
Oil with gold particles whose primary purpose is to moisturize and nourish the skin of the entire body and the hair. Indeed you think its price will be crazy since its composition includes gold, but nothing could be further from the truth; you can get it at Mercadona for only €6.85.
Dermik Oatmeal Water
Perfect spray product to be used as a toner to refresh the skin and calm it when it is irritated. It can also use to moisten makeup and sponges to improve their use.
Meso-anti-cellulite concentrate ampoules: it appeared in 2020 as a limited product, but given its high demand, this year, it returned to Mercadona's shelves. These capsules, in packages of 15 single-serving units, are made of hyaluronic acid, caffeine, carnitine, Centella Asiatica, turmeric, vitamin C derivative, and vitamin E, making them ideal for treating cellulite for a price per box of €8.50.
Hyaluronic acid ampoules. Perfect for deeper hydration of the face, neck and décolleté. Each box contains seven ampoules of 2 ml.
Deliplus hair bleaching cream.
Before deliplus hair bleaching cream. Perfect for hair on any part of the body, even for those with sensitive skin. Each pack, which costs €2.99, contains a bleaching cream and an activating cream, 75 ml.
Dragon's Blood Facial moisturizing cream from Beauté Mediterranea: perfect regenerating cream to treat the signs of ageing, for only €5. It contains red sap from an ancient tree from Latin America, which is known as dragon's Blood and vitamin C.
Bubble Mask exfoliating face mask: an incredible exfoliating and cleansing mask for only €4.50.
Deliplus enzymatic peeling: another great exfoliant that we can find in Mercadona, ideal for all skin types. Green, red marine algae. Extracts and botanicals.
Prevent Age Skin proteoglycan ampoules: perfect anti-ageing ampoules to reduce wrinkles, increase the elasticity of the face and improve its texture. The box offers ten doses for only €4.
Regen Skin Deliplus lip contour: it is perfect for helping reduce wrinkles, hydrate and firm the lip contour area for those with normal, dehydrated skin. You can get it at Mercadona for only €4.50.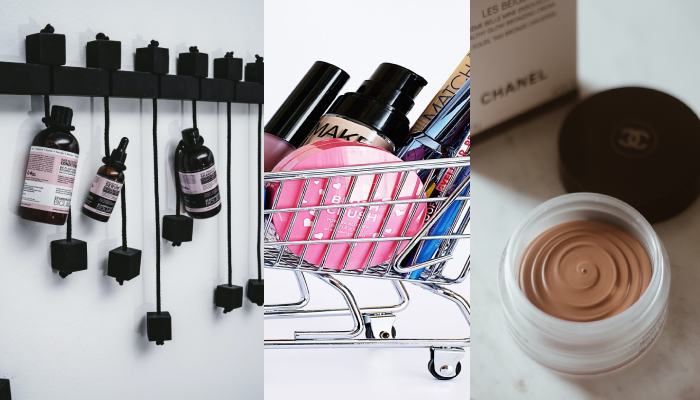 Mercadona Cosmetics – Makeup Items
Deliplus makeup base: Mercadona Cosmetics, with results similar to those of other high-end brands, but at a low-cost price, only €5.50. Available for different skin tones.
My Soul Brushes: a set of four brushes aimed at achieving a perfect makeup for every day for €12.
SOS Nails Collection: Collection made up of two types of incredible nail care products, on the one hand, a moisturizing gel with colour for damaged and fast-absorbing nails and cuticles, and on the other hand, a polish to hydrate and protect the nails.
Color Fix Deliplus: fixed lipsticks with a light texture, long-lasting matte finish. The best excellence at the best price, only €3.50.
Water-based cleansing gel makeup remover to achieve deep cleansing of the face without a greasy finish.
Maxi Lips Lipstick Sun in Fusion Collection by Deliplus: lipsticks with volume effect thanks to the combination of two colours in its three available models. You can get to each of them for only €5.
Deliplus Maxi Volume Mascara
One of the most sought-after makeup products in Mercadona for its perfect natural finish. At the level of the big brands, but a ridiculous price.
Ninas Glam transparent mascara: to apply to the lashes and achieve maximum volume in a completely natural way. It can also be used before traditional mascara or even to comb and set the eyebrows.
Because of this my Soul Eyeshadow Palettes: An incredible range of palettes with a wide variety of colours of excellent quality. It will not stop surprising you.
Deliplus sun powders
Another with two different shades, one aimed at tanning the skin and the other at illuminating it, all in the same product at the cost of €7.
Deliplus facial primer: perfect for preparing the face for makeup, it reduces blemishes, unifies the skin and covers the pores so that the base is perfectly fixed.
Hair Products
Shampoo for white hair: one of the star products for white or very light blonde hair, whether natural or dyed. It is perfect for mattifying the colour and keeping the hair healthy and shiny.
Deliplus Liss Frizz Control Serum: ideal for achieving shine. Softness at the ends and perfect protection, especially for hair prone to frizz. It costs only €4.35.
Deliplus hair perfume spray: It can cover annoying odours that stick to the hair. But always with the utmost care, thanks to its composition. Its price is €2.50.