Introduction
Revlon vegan dyes are a new generation of hair products that are respectful of the environment and, in addition, preserve the good health of your hair. The natural thing suits you and the environment, and vegan dyes have fewer chemical compounds than usual.
With Revlonissimo Color Sublime Vegan, both the brand and the distributors and hairdressers show a necessary social commitment. This range of dyes marks the path towards a less toxic future that matches the principles of the most upright users.
What Are Revlon Vegan Dyes?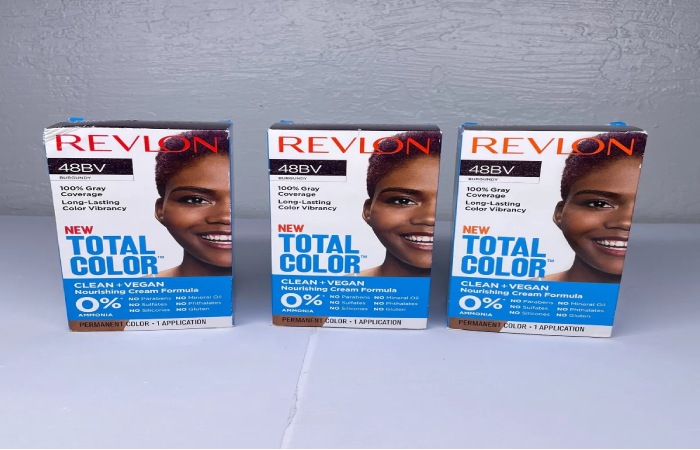 The Revlonissimo Color Sublime Vegan range is a type of Revlon ammonia-free dye. It constitutes a coloring line that offers highly appreciated results: soft, beautiful, and well-groomed hair.
Vegan products are all those that do not contain derivatives of animal origin and have not on animals. For many people, veganism is more than a diet based on plant-based products: it is a philosophy of life.
It presented as an ethical alternative that changes the parameters of food, personal care, and, by extension, human beings' relationship with their environment.  The brand is a pioneer in initiatives of this type , and since the late 1980s it has avoided testing its cosmetics on animals. Creating a range like this is a step that Revlon has taken naturally.
Commitment to products as natural as possible is also a position in favor of good hair health. Thus, Revlon offers a product that does not collide with the ethical principles of adhering to this philosophy or, others like it, vegetarianism. He does it out of respect for his beliefs.
Launch Of The New Line Of Revlon Dyes
With this new formulation, the brand advances in its commitment to achieving a 100% vegan dyes line, maintaining the highest quality ever, and its commitment to the environment.
What Are They Made?
This ammonia-free hair dye from Revlon has an exclusive formulation based on natural ingredients and derivatives. We review them below:
Coconut seed oil. It favors its natural growth, providing antioxidants and natural fatty acids. It has vitamins, minerals, and proteins that strengthen the root, an ally against hair loss.
Tigernut root oil. The properties of the tiger nut in cosmetics. Its high oleic acid content protects against external aggressions, and vitamin E restructures tissues and increases their elasticity. Its high moisturizing power makes it ideal for dry and damaged hair, softening the hair fiber and giving it a healthier, brighter, and silkier appearance.
Revlon Vegan Dyes
Sunflower oil. Its contribution to healthy hair is decisive, to the point that many specialists encourage it to in beauty routines for both hair and skin. It retains frizz and flyaways at bay and revitalizes hair follicles to hydrate. Its vitamins, nutrients and antioxidants make it the ideal ally to extract all the beauty of the hair.
Macadamia seed oil. It has fatty acids and lipids that penetrate the scalp and permeate the follicles. The result is more robust, hydrated, and better-looking hair.
Sweet almond oil. It is high in protein, omega-3 fatty acids, vitamin E, and minerals such as magnesium, copper, phosphorus, or zinc. He also covers antioxidants, which fight free radicals and their aging effects. It is, in short, a highly appreciated natural product in cosmetics, as it provides shine and strengthens the hair.
Other ingredients:The Revlonissimo Color Sublime Vegan line has other components from natural raw materials. These are antioxidants such as erythorbic acid and sodium sulfite, texturizing compounds such as surfactants or thickeners, and film formers such as Quaternium-91.
The Revlonissimo Color Sublime line is committed to combining science and nature. The result of a long study process, the range has a unique formulation based on vegan and organic cold-pressed oils. Cold-pressed oils are obtained at temperatures below 27 °C since high temperatures can alter their properties.
The result is maximum respect for the raw material, so all the nutrients that the hair can benefit from are preserved. Revlon has set out to achieve healthy, strong, silky hair with this formulation.
What Advantages Do Revlon Vegan Dyes Bring To Your Hair?
We have reviewed some of the advantages of Revlon vegan dyes, as their formula based on natural ingredients is fully respectful of your hair. We detail them below:
1. A Pleasant Experience
The application of the dye or the elaboration of the hairstyle is not considered only as one more process of the hair. Whether at home or the hairdresser. It should be taken as a personal care procedure to relax and enjoy, since you will also be taking care of your image and gaining self-esteem.
But using products with a strong smell, as is the case with dyes with ammonia, goes against the pleasant and relaxing feeling intended to achieve. Vegan dyes, being natural, provide a more enjoyable experience.
2. Does Not Cause Allergies Or Reactions
Paraphenylenediamine, ammonia, and resorcinol are chemical compounds that can cause an allergic reaction. In particular, the first of them is the leading cause of allergies to hair dye. It can appear suddenly and result from frequent exposure to this type of product. But vegan hair dyes do without these types of compounds.
Among the symptoms that denote a possible allergy to the dye are redness scalp and other areas of the skin exposed to the product. Itching, itching, or burning in these areas is also common.
They are mild symptoms, but some more serious ones could still appear, such as pimples or blisters, darkening of the skin, or swelling. The latter can not only occur on the scalp, eyes, neck, or other parts of the face.  If you use dyes with ammonia, you should look for safe products like those from TodoCabello.net, which have the proper concentrations not to put your skin at risk.
3. No Extra Treatments Are Needed
Since ammonia is solid and other products are often used to protect the hair and scalp. It will prevent the excess dryness that ammonia can produce on the scalp. A few weeks before dying, you add extra hydration to your hair with unique nourishing and repairing masks.
Dyes with an organic formulation, such as those in the Revlonissimo Color Sublime Vegan range, contain respectful natural ingredients so that you won't suffer from allergic reactions or itchiness.
4. It Is Healthy For The Hair
Vegan dyes without ammonia are among the most demanded products in hairdressing today. More delicate products provide minor irritation. Revlon and other brands thus respond to the demand of increasingly demanding and responsible customers, and not only for environmental reasons, but also for personal care.
The trend became evident from 2019, and within the category of safe products, the consumption of vegan color has gained ground. It is ideal for persons prone to allergies or skin conditions and pregnant women or women undergoing an oncological process.
Keep in mind that the plant-based formulation respects 100% the pH of your scalp and provides natural hydration that translates into density and shine.
5. A More Natural Color Is Achieved
Natural coloration, including Revlon vegan dyes. Tone down the root. That way, when the color starts to fade, it won't just be at the source. Naturally and evenly throughout the hair, so you will not feel the need to run out and apply another color to hide the damaged roots.
Natural coloring is 100% effective in covering gray hair. It is a coloration with many nuances that do not dry out. Thanks to pigments extracted almost entirely from nature, it will help you achieve that rejuvenated image you are looking.
6. It Is Ideal Together With Other Treatments
We have already said that vegan dyes do not require the parallel use of moisturizing treatments that counteract the dryness caused by ammonia. We are not referring to this type of treatment but to others with specific functions such as smoothing.
A few years ago, new concepts such as Japanese or Brazilian hair straightening became fashionable and are still available in beauty salons. They gave way to much more sophisticated treatments such as plasma, hair botox, hair lifting, and many others. All of them are perfectly compatible with the use of vegan dyes.
7. It Is Environmentally Friendly
We're reviewing the benefits of Revlon vegan hair dyes for your hair, and you may find that this one doesn't quite fit the bill. However, what's suitable for the setting is also good for your overall health.
Dyes have a complex composition that includes oxidants, heavy metals, or ammonia. When eliminated, they can accumulate in the soil or water, where plants and animals extract the nutrients we then consume. The contamination of natural resources is a global problem, and many people have already decided to contribute their grain of sand with daily actions to reduce the impact.
HOW TO APPLY REVLON VEGAN HAIR COLOR
Vegan dye is in a 1:1 ratio. It can prepare with 75 ml of paint and 75 ml of oxidant. For example, for a single application, you can use Revlon cream oxidant and 75 ml of Color Sublime Vegano 25 vol. 7.5%.
In the first application, you will have to put it on lengths and ends and let it rest for about 15-20 minutes. On the other hand, it should be between 25 and 30 minutes. So that the total exposure time is between 40 and 50 minutes.
When you touch up, you will have to apply the product to the roots for about 20-30 minutes. After that time, you should extend to lengths and ends and leave to act for another 5-10 minutes, so the total exposure time is about 30-40 minutes.
Dyes take time, so try to provide a pleasant experience for the client (if you own a beauty salon) or yourself (if you do it at home). With a product like this, you won't be bothered by the strong smell or fumes without ammonia.
We collect some valuable tips when applying a vegan dye :
To prepare your hair, avoid using a silicone shampoo. Do not apply natural oils either, as they will not favor the penetration of the product. Just leave it wet for application.
To prepare the mixture, follow the instructions that come on the container. The most relevant parameters are the temperature of the water and the texture of the pasta, which must beat.
You can add other ingredients to the mixture, if you want, to improve the coloration. For more excellent durability, you can use salt, while black tea will give more intensity to the color. Don't use oils.
If you want to nuance the result. Wait between 24 and 48 hours to see the final result and repeat the dye.
In short, Revlon vegan dyes are an ammonia-free color that is not only more respectful of the health of your hair but also the environment. More and more users concerned about their environment demand products whose compounds are not of animal origin and have not on animals. Revlon's commitment to this line goes back decades.