In Makeup, Less Is More! – In makeup, quality and not quantity. This time I come to show you one of my favourite makeup trends. The long-awaited moment of less is more has arrived after the latest fashions such as contouring or false eyelashes! And your strengths.
It is also for women over 40 who love to put on makeup but want to take care of their skin since a perfect face can by using a few products and using care techniques that we will see below.
Before going on to show you how to achieve an ideal no make up , I want you to bear in mind that this can be done with the products you have in your bag and that you use for any other type of look. You do not need to buy anything extra, and if you do not have any, you can replace it with another product or not use it.
Prepare The Skin
Well, to begin with, as we do with any makeup style, the first step, and perhaps the most necessary, to prepare the skin before using any product is to clean it to remove all impurities. In addition to washing it with warm water, it is advisable to use some cleansing milk for deeper cleaning.
Once we have cleaned and dried our face, it is necessary to moisturize the skin; in this way, we will achieve a better fixation of the makeup and a complexion with a healthy, juicy and straightforward effect.
Also, suppose you want to take the opportunity to include a more specific treatment in your routine. In that case, you can use a serum with vitamin C, which will give your skin the necessary luminosity and firmness.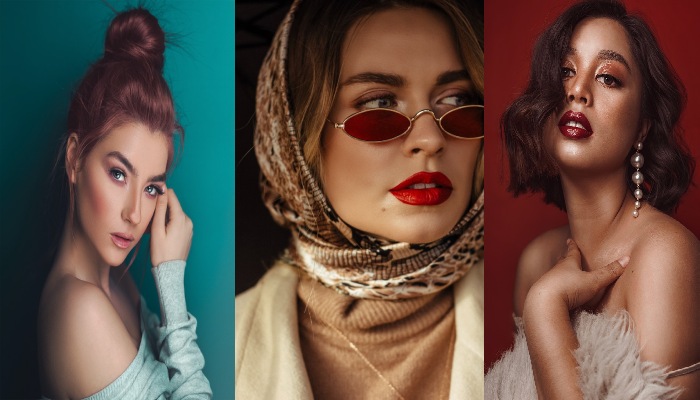 Face
And to start with our natural effect makeup, we will proceed to apply the base to cover the imperfections. In this case, the best option is to choose a BB cream to achieve a more natural look on our face, but as I mentioned, the idea is to be able to do this makeup with whatever we have at home, so if you don't have this type of cream, you can use your usual makeup base.
A piece of advice regarding choosing your ideal base is to choose one that is light and satin, to ensure that the expression wrinkles that appear with age are less marked.
Once the base spread, you can use a concealer to hide the imperfections that have not. For greater effectiveness of this product, an orange colour pre-corrector can be used. Which will help to eliminate sun or age spots.
Finally, choose a blush that suits your skin tone. Make it look as natural as possible, and apply it to the apple area, from the cheekbones to the temples, with small touches with a small amount of product.
These would be the essential products; if you want to get a touch of colour on your skin. Forget about using bronzing powder and choose to start using a moisturizing cream with a golden tinge; we will apply this in the skin preparation phase.
As for the powders, you can use ones with a velvety finish. Spreading them only on the sides of the nose and in the centre of the forehead to achieve nuance to the skin.
Eyes
In this area, we will use the products that we use for any other makeup style. But we want to make it look like we hardly use any product; how? Very easy. On the one hand, we can take advantage of not using any eye shadow, there is no greater naturalness than the absence of makeup, but if you want to apply some shadow, it must be a nude effect, that is, a matte colour in earthy or warm tones.
If you want to apply mascara, you should do it subtly and with deep black mascara. In addition, you should prevent the lashes from being cake to look natural.
As for the eyeliner. You will have to opt for one in a brown tone to outline both the upper and lower water lines. It is also advisable to draw a fine line at the edge of the lashes.
Finally, a tip to achieve. A more luminous look. We can maintain an easy routine to deflate. The skin from dark circles while eliminating toxins by using a Jade roller, with which we will massage this part of the face.
Lips
The ideal to achieve a natural effect is to use only lip gloss or a colourless balm. But, if you also want to include some colour, it is advisable to use a soft shade, pink or light brown, for a nude effect.
It is the most comprehensive combination of products with which you can achieve. A "washed face" effect makeup, but you don't need to use all of them; you can achieve a similar look using only mascara, blush and lip gloss, for example.
What you must not do is use a series of items that we are going to classify as prohibited. Which are: eye shadows in dark tones, contouring, intensely coloured lipsticks, broad eye lines and caked mascara. Everything else is a hit!